How do I know what size liner I need?
Choosing a Length
The best way to size your chimney liner is by dropping a tape measure from the top of the chimney crown and measure the distance from that point to the thimble or opening where your appliance or stove will connect to the chimney. It's always a good idea to add an extra foot or two just in case.
Choosing a Diameter
A general rule of thumb is to see what size outlet is on your stove or appliance. In most cases, fireplace inserts require 6 inch diameter chimney liner. Woodstoves generally require between 6-8 in diameter chimney liner.
In any situation you should first consult the manufacturers instructions of your appliance before installing a liner.
Open Fireplace Liner Sizing Guide
The chart below uses a 10-1 ratio. A 10-1 ratio should be used for chimneys less than 25 feet in height and a 12-1 ratio for chimneys greater than 25 feet in height.
| | |
| --- | --- |
| Fireplace Opening | Liner Diameter |
| Up to 600 sq. in | 9″ |
| 601 – 760 sq. in. | 10″ |
| 761 – 942 sq. in. | 11″ |
| 943 – 1140 sq. in. | 12″ |
| 1141 – 1356 sq. in. | 14″ |
| 1357 – 1846 sq. in. | 16″ |
Below is a chart for sizing gas appliance liners:
Choosing a Diameter for Non-Round Pipe
These charts will help you find the dimensions of ovalized,squarized, and rectangularized pipe. Start by finding the pipes minor outside dimension from the left side of the chart. Move across to the right to find the major outside dimension. Then move up to the topmost header. This will give you the round pipe size you will need before ovalization.
Oval Shape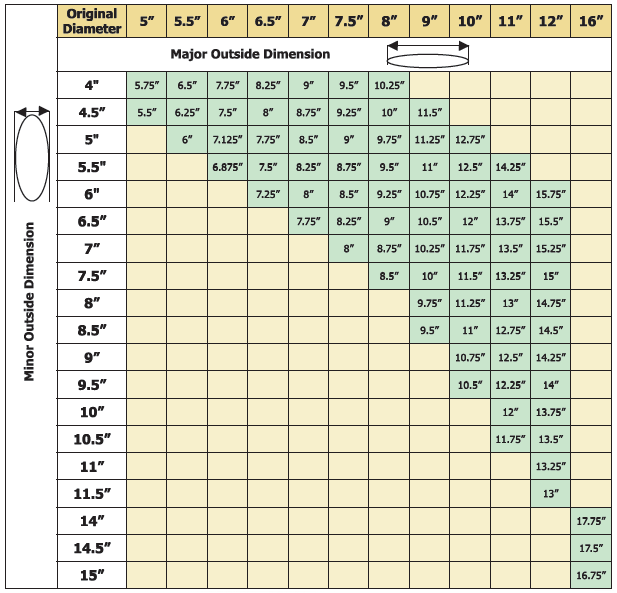 Rectangle Shape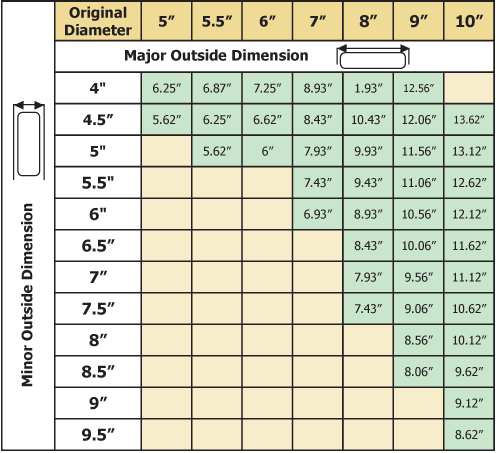 Square Shape

Flex King Products
Shop now and get amazing deals.
SHOP NOW
Flex King Pro
Shop now and get amazing deals.
SHOP NOW